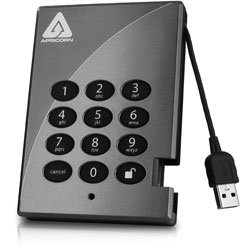 Apricorn has introduced its Aegis Padlock Secure Hard Drive that sports a keypad so that users can enter PIN numbers to access the data inside. So if you lose the drive, it can't be accessed without the PIN number. This drive also features AES-128 or 256 bit encryption to keep things safe when connected to your machine through a USB 2.0 cable and it's cross-platform compatible.
Another interesting aspect is an administrator feature that allows you to set up to ten user IDs and one administrator, so that others can have direct access to the information. Some other features include a 16-point omnidirectional shock mounting system and it will come in 250GB, 320GB and 500GB storage capacities.

The 128-bit AES models will retail for $100, $110 and $140, while the 256-bit AES models are $120, $130 and $160.
Aegis, hard drive, padlock, secure