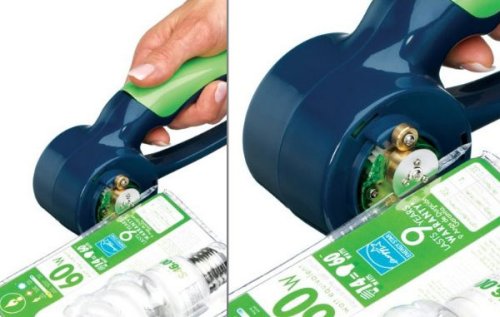 Any gadget lover knows the frustration of trying to extract a new gadget or toy from it's clamshell packaging. Each of us has probably stabbed or sliced ourselves just trying to open the packaging. Exacto knives work great, but your chances of injury increase dramatically. It's a fact that many of us here at the 'Brick have less than ten fingers. So why not have an electric gadget that will open these packages for you?
The ZIPIt simply slices through the demon package like butter. The device runs on 3 AA batteries. Just remove the protective cover, and slide your package into the end of the cutter. A few seconds later, your package will be open and all of your fingers will be intact.

You can grab the ZIPIt clamshell package opener for $25 on Amazon. And it wont come packaged in a clamshell.
[Amazon] VIA [Technabob]
clamshell, electric, opener, package, Zipit