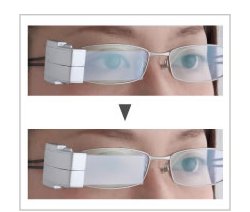 Wink Glasses are a clip-on device that monitors your alertness. How does it do this? By counting how often you blink. Your blink rate will tell it if you are getting tired. If it senses that you are dozing, the glass will turn opaque and supposedly, that will wake you up.
I don't wear glasses, but if I did and I got tired, I doubt this would wake me up. Maybe the first few times. But I'm sure you get used to it and it wears off.

Maybe if it started blinking it might be better.
awake, wake up, Wink Glasses