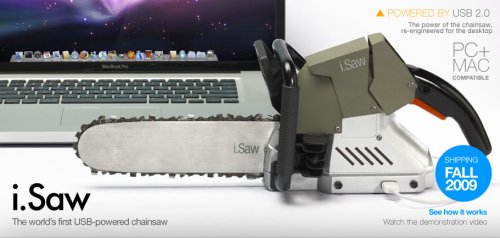 When it comes to USB gadgets, it doesn't get any cooler or deadlier than this. It's a reminder that we can push USB technology further when it comes to power tools, whether for taking care of odd jobs or hacking a fake plastic tree.
Thank you usbchainsaw.com for showing us the way. Sure, it's likely a hoax, but USB powered saws are something to aspire to. Office arguments can now end in dismemberment. And next time your secretary gets your coffee wrong…look out. Hit the link for a video.

Too bad it's certainly a fake. We've been looking forward to a line of USB power tools ourselves.
Chainsaw, isaw, USB