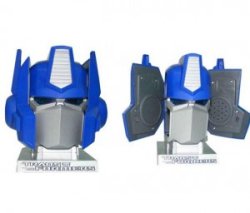 You might think that if you have some Transformers speakers, they would…transform. Sadly, that's not the case with these USB Optimus Prime speakers. The only thing that moves are Optimus' ears, turning him into Prince Charles or a robot elephant.
Other than that, it will blast your favorite tunes. The only thing that transforms is your wallet, which loses $50 on this pair of desktop speakers.

So who wants Optimus Prime to look like Dumbo? Disney. Disney must be behind this.
Optimus Prime, Speakers, Transformers, USB