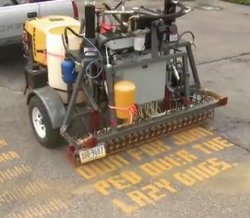 The Tour de France is currently underway and Lance Armstrong is apparently returning to help promote his Livestrong campaign and raise cancer awareness. So Livestrong and Nike have teamed up to create the Chalkbot, a robotic chalk painter that will print messages along the path of the Tour de France.
If you want your own message printed just text 'LIVESTRONG' followed by your chalk message to 36453. They hope to print more than 100,000 messages over the course of the entire race. We like stories like this where robots are helping worthy causes instead of plotting our demise.

We need more bots like this. I would love to see some of the funnier messages that humans will come up with.
cancer, Chalkbot, lance armstrong, Nike, robot, Tour de France