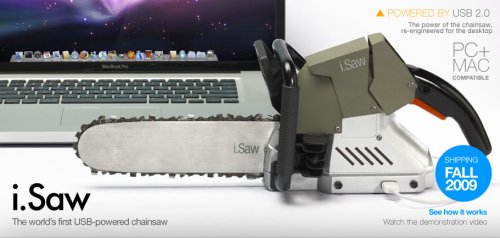 We knew the iSaw was a hoax, but we had no idea just how awesome and clever a ploy this really was, with a truly worthwhile message. If you placed a pre-order, here's the message you received:

Hello.

We love that you liked the i.Saw enough to pre-order.

Truth is, you already own a chainsaw. Your keyboard.

Help save more trees by cutting down on unnecessary printing. Download PaperCut, a free application that plays the sound of a chainsaw each time you press Ctrl-P.

Available for Mac and PC.

Thanks for the support. Help spread the buzz, if you will

PaperCut Team
(formerly known as i.Saw Team)
That's a good and fun hoax with a great message. We can get behind that. It actually made people pause for a sec and think about a worthwhile issue. Awesome job.
app, Chainsaw, hoax, isaw, papercut, print, USB