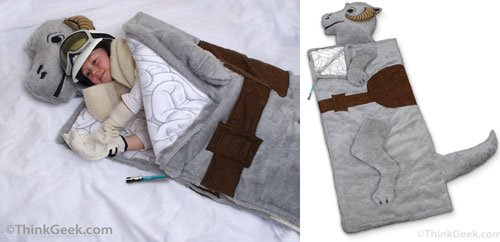 You may remember ThinkGeek posting an April Fool's joke about a Tauntaun sleeping bag in April. We covered it here ourselves. Well, ThinkGeek was flooded with e-mails from people who, like us, wanted to own one for real. They got so many emails that they decided to explore the possibility.
The good news for us is that things are looking up. Think Geek PR man Shane Peterman says: "We are definitely trying to make it into an actual item to be sold on our site. As of right now, it's still an "if," but it's turning into more of a "when." Things are looking pretty good, we just don't want to get too far ahead of ourselves. There's certainly been enough of a demand, both from customers and from those of us that work here. Right now, we're aiming to have it available for the holidays or, at the latest, the 30th anniversary of The Empire Strikes Back next spring."

We can't wait to get ours round these parts. But it's likely to be a pricey item if it comes to market.
sleeping bag, Star Wars, Tauntaun, thinkgeek