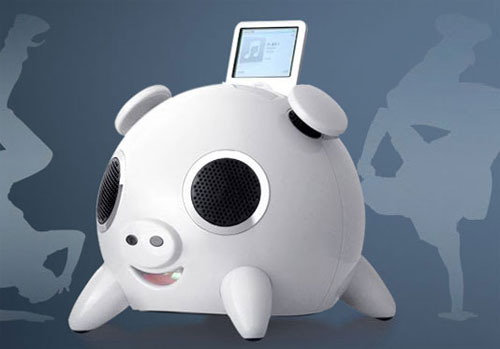 It seems like just about everyone has an iPod today. What some of those iPod users may not realize is that you can play the tunes back without connecting to your PC if you have a speaker dock. Not all speaker docks are the serious looking electronic devices that we are used to. Today I am going to look at the Speakal iPig iPod dock. You may be surprised at the iPig, read on for all the details.
Features & Specifications
The Speakal iPig is a 2.1 iPod docking station that is compatible with all docking iPods including the iPod touch. The volume can be controlled by touching the pig ears and each eye is a speaker and under each ear is a smaller speaker. On the bottom of the iPig is a subwoofer with 15W of power for a total of five speakers. Bass and treble are separately adjustable and the dock ships with a remote that controls the iPod menu, volume and other functions of the dock. Total power is 25W and the dock has a 3.5mm input on the rear for non-dockable MP3 players and other input sources.
In Use
This little piggy went to market, this little piggy stayed home, and this little piggy rocked your socks off. You might look at the Speakal iPig and think its something for kids, a mere toy. That is what I thought when I pulled the white test piggy from its box. After I plugged the device in, set the iPod touch on the dock and started the music I realized how wrong I was.
The Speakal iPig is one of the best sounding iPod docks I have tried. The mid and high range sounds are fantastic and the bass is surprisingly deep. The speakers are arranged for a 360-degree sound stage and the attention Speakal put into the details of the design are clear as soon as you start using the iPig. When the dock is on the moust glows green and the remote allows you to adjust the volume, bass, treble, and control the track on your iPod from across the room.
The only possible downside to the iPig is the fact that it looks like a pig. Some will find the design cute and may want it because of its looks while others will be indifferent our will outright dislike the iPig. My review unit was white, but you can get the iPig in yellow and pink as well as a limited edition black. At the end of the day, the Speakal iPig is a great iPod dock that also charges your dockable iPod.
Pros
Sounds great
Remote controls tracks from across the room
3.5mm input
Cons
Verdict
The Speakal iPig is a great iPod dock that charges while you listen to your music. The sound the iPig produces is fantastic making it one of the stranger looking, but best sounding iPod docks I have ever used.
iPod dock, Speakal iPig