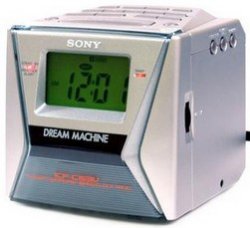 The Sony Dream Machine Spy Camera is a spy camera made to look like your typical clock, just uglier. The camera records high quality real-time video with an automatic switching nightvision camera that activates the moment it gets dark for nightvision up to 30 ft. away.
It will also record real-time motion-activated video or high resolution stills on an SD card that's in a hidden compartment. It will cost you a whopping $599.95.

But hey if you need to spy on people, it's priceless right?
camera, Dream Machine, Sony, spy