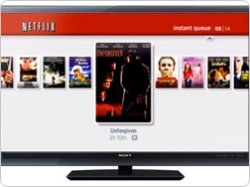 You will now have access to Netflix on Sony's line of Internet-ready Bravia TVs. Newer sets come with built-in support while older models will need the add-on Internet Video Link. You can Watch Instantly and stream movies or TV shows straight on your set, though we aren't sure if the footage is in HD or not.
The update will be available later this fall alongside competing services already live for Sony's TVs, including Amazon Video On Demand and Sony's own movies. Sets already have access to non-commercial video services like Crackle, DailyMotion and YouTube as well as radio from Slacker.

That should make Bravia owners happy.
Bravia, Netflix, Sony, streaming