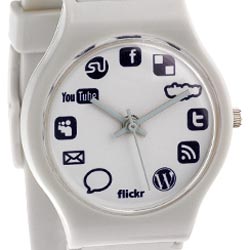 Here's a watch that will remind you when it's time to get social. As if you need reminding. They already take up a lot of our time. It will tempt you even when you are away from the sites. Then again with so many sites and so little time, this watch might help you manage just using one site per hour.
It features all of the major networks, including Twitter, Facebook, MySpace and so on. Each of the 12 digits are replaced with the logos of your favorite networking sites. Best of all it's only $18.

Hey why not? You need to know when it's Flckr o'clock.
flckr, MySpace, Social Media, twitter, watch, Wordpress