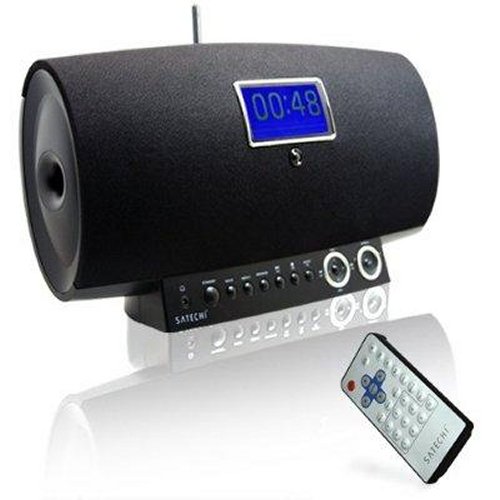 Maybe you've found that most internet radio designs are too traditional. Apparently Satechi thinks so too. Check out this odd design. Their INSP3 WiFi radio has a strange barrel shape, but forget looks. It can stream music from both internet stations and from any UPnP network device.
Either WiFi b/g or wired ethernet is used to get onto the network, and the INSP3 can be used without a PC or Mac turned on. The remote will navigate both internet radio and local streaming content, with twin 8W stereo speakers and both line-in/line-out connections for plugging in a PMP and headphones.

This one comes out ahead with the supported file types, which includes AAC, AIFF, AU, M4A, MP3, OGG, Real Audio, WAV and WMA (non-DRM). There's also an alarm clock and timer, and twenty presets. It's available now for $99.99.
INSP3, internet, Radio, Satechi, Wi-Fi