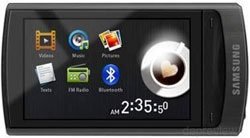 Samsung's YP-R1 is a smallish and good looking portable media player that will hit South Korea next month. Sadly, we don't have a price on the device yet. We do have some specs though.
The YP-R1 will have a 2.7″ QVGA touchscreen display with haptic feedback, DNSe 3.0, Bluetooth 2.0 connectivity, dictionary, a voice recorder, TV-out, an integrated FM radio and recording capability. Battery life will give you 25 hours of audio playback, and 5 hours for video.

Of course it also supports the most popular audio and video formats.
pmp, Portable Media Player, Samsung, YP-R1