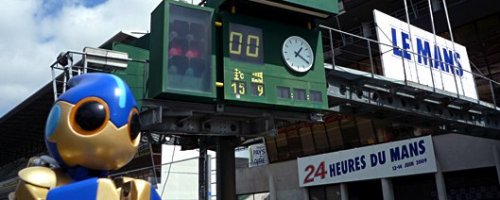 Panasonic's cute battery-lovin' mascot is at it again. Last time, he was showing off his abilities by scaling a Grand Canyon cliff. Now EVOLTA is back and he's still all about breaking records and the hearts of fan-girls everywhere. This time he will be riding a mini tricycle in order to set a world record for distance traveled by a robot.
We're rooting for the little guy, but we aren't so sure he is gonna make it. I mean EVOLTA isn't exactly fast is he? The bot does have some upgrades from his previous version however. He can ride a bike and follow an infrared path set up by his human handlers.

Hit the link for some cool video. What do you think? Can he do it?
Evolta, lemans, Panasonic, Record, robot, tricycle