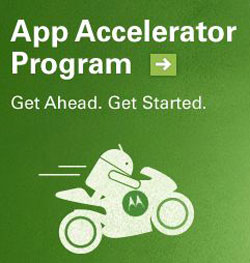 Motorola has big plans for Android and is developing several handsets that run the Google open source OS. Android has proven to be very popular with both device makers and with consumers who are buying Android-powered handsets in droves.
Motorola has announced that it is unveiling a new developers program that helps developers build apps for Motorola Android devices faster and easier. The program is called MOTODEV Studio for Android Beta.
The benefits of the program for developers include early access to tools, tech specs, documentation, and other resources. The program will also offer pre-release access to new devices or testing and debugging. Participants will also get access to forums with direct access to Motorola developer support engineers.
Android, Motorola