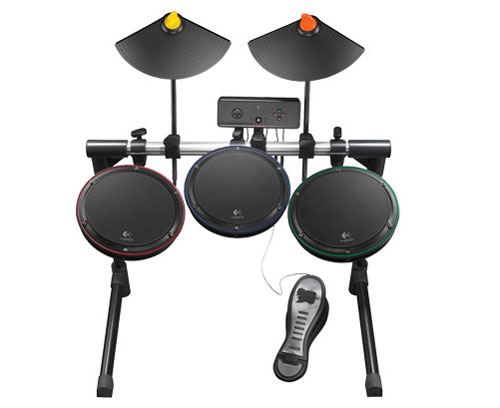 I am a fan of music games and have spent lots of time with Rock Band. It continues to bum me out that Logitech doesn't offer any controllers for Rock Band even though it does make some of the coolest controllers for Guitar Hero.
Logitech announced its latest Guitar Hero controller for the PS3 today called the Logitech Wireless Drum Controller. The device connects to the PS3 via a 2.4GHz USB receiver and can last for up to 50 hours on a single pair of AA batteries.
The three drumheads and two cymbals are adjustable for a perfect fit for players. The bass pedal is topped with stainless steel and the spring can be adjusted. The drum set also folds flat in seconds for storage after playtime is done. The set will ship this month for $199.99.
guitar hero, Logitech, PS3