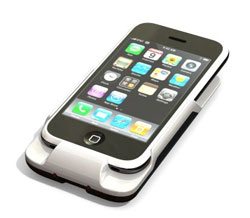 The ideal phone would never have to be plugged in or at least would need to be plugged in only rarely. The reality today is that high-end devices like the iPhone burn lots of battery power and require almost daily charging to remain usable.
A company called MotionTouch has announced a new charger for the iPhone that is eco-friendly and charges by light. The device has a solar cell on the back of the sleeve that can gather power from some ambient lighting and from the sun.
The sleeve fits the iPhone 3G and 3GS and its internal battery charges whether it is on the iPhone or not. The company promises that all features of the phone will continue to operate even when the sleeve is installed. Pricing and availability are unknown.
charger, iPhone, solar