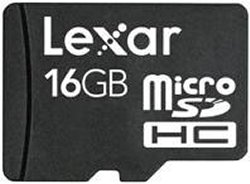 Lexar has announced two new memory cards that offer up some higher capacities for phone and camera users. First there's the 16GB microSDHC card, which features 34nm technology and can hold up to 4,000 songs.
Next is the 32GB Platinum II SDHC card, which also uses 34 nm techology and can transfer data at up to 60X. Supposedly, it can write at 9MB/sec and will hold 12 hours of HD footage and can even be used for holding RAW files. Both are available now.

The 16GB microSDHC card will cost $99.99 while the 32GB Platinum II SDHC card costs $139.99.
16GB, 32GB, cards, Lexar, Micro, SDHC