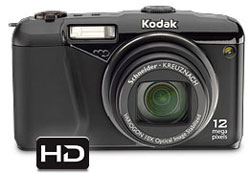 Kodak has been in the camera and film business for more years than most of us have been alive. The company makes a full line of digital cameras, film, and other electronic products like camcorders and digital frames today.
The company has announced a new digital camera that will ship in August for $279.99 called the EasyShare Z950. The camera uses a 10x zoom lens with optical image stabilization. The camera also uses Kodak's Smart Capture feature.
This feature automatically adjusts focus, flash, and exposure for great photos. The camera has a 12-megapixel sensor and can shoot images up to 30″ x 40″. One of the big issues with many point-and-shoot cameras is that they are slow when it comes to shutter speed. The Z950 has a click to capture delay of under 0.3 second.
camera, Kodak