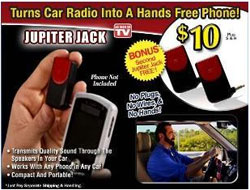 I have never purchased anything off a TV commercial like the ones the spokes people always tell you to call now for. Most of the stuff they peddle looks like junk to me. The company behind some of those oddball products — Telebrands — has announced a new gadget that works with mobile phones.
The device is called the Jupiter Jack and plugs into the headphone port of mobile phones. The idea is that the device will send the audio from your calls over the cars speaker system so you can hear while driving without having to hold the phone.
The issue I see with the device is that it only broadcasts on the 99.3 FM frequency. If you happen to live in an area where there is interference on that channel of someone broadcasts on the frequency you are out of luck. The device is available in several retail stores for $19.99.
hands-free, mobile phone