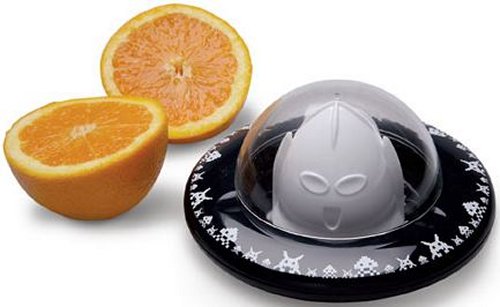 They've come to steal our juice. Guard the stores. Defend the vending machines. They can have Prune juice, but I will fight them to the death for the rest. The UFO Intergalactic Juicer UFO Juicer is available in three colors. Pink, lime green, and navy blue, each with their own design on the spacecraft.
The juicer has a plastic filter with cut out shapes for straining the pulp, because even aliens don't like pulp. The saucer separates for easy cleaning and has a bottom hole for the juice to drain out. I want it to be known right now that if I catch any alien scum stealing Snapple, I'm popping a cap in his intergalactic ass. Not on my watch man.

They'll cost you $14-$16.
alien, Intergalactic, juice, Juicer, ufo