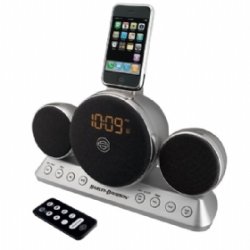 The 2.1 Harley Davidson Headlight Stereo Speaker System with Alarm Clock for iPhone or iPod will bring a little Harley in the house. It functions as a standard alarm clock and iPod/iPhone dock, but it also features authentic Harley Davidson motorcycle sounds in case you miss your Hog in the garage.
You get a fully functional remote and it functions as a fully functional dock too. Only $129.99 and best of all, with this Harley, you won't have to worry about any bugs in your face.

If you enjoy waking up to the sound of a revving motorcycle, go order now.
harley davidson, headlight, iHome, speaker, stereo, system