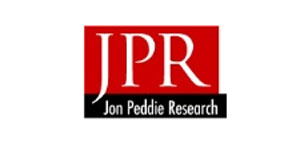 The fates of the computer and GPU market are closely tied together. Poor computer sales means the GPU market is doing poorly. At the same time robust GPU sales means that computers are selling well also. That means that the GPU market can be a great indicator of how the PC market is doing.
Research firm Jon Peddie Research has released its GPU shipment results for Q2 2009. The research firm notes that while the market is still in a recession, Q2 showed signs of improvement. Q1 to Q2 sales traditionally decline according to JPR with summer vacations and consumers getting ready for the fall.
The typical Q1 to Q2 average change is 0.83% for the last 8 years and this year the change was 31.29%. Leading the market was Intel with 51.2% of the GPU market, NVIDIA was second with 29.2% of the market, and AMD was third with 18.4% of the market.
GPU, JPR