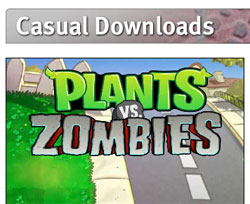 Video games are feeling the pinch of the poor economy as sales for hardware and software slump. The market for casual games is much larger than the market for more hardcore video games and GameStop is making a grab for some of the casual market.
GameStop announced a new casual digital download store for games powered by RealNetworks. GameStop says that customers will be offered money-saving deals, free trials, and a streamlined search along with a checkout capability.
The new store also features a casual lounge that allows shoppers to connect with GameStop experts and make informed buying decisions. Customers will also have the ability to pre-order future titles and for a limited time some popular games in the digital store are available for 50% off.
Casual Games, Gamestop