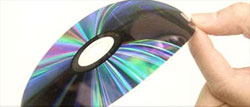 Back in the heyday of AOL it seemed like there was a CD or DVD in the mail each time I went to the box. Thankfully, I rarely get optical discs in the mail anymore. I wonder if some of the reason you don't see optical discs being mailed today has to do with the cost of sending them.
A company called CD Digital Card has announced a new type of DVD called the Flex DVD. The Flex DVD is the same diameter as a traditional DVD, but about half as thick at 0.6mm. The Flex DVD can store 4.7GB of video or DVD-ROM content and weight 8 grams.
The thinner and lighter disc uses about half the raw plastic to build as a conventional DVD and needs no chemical or bonding materials making the construction more environmentally friendly. The company claims that mailing Flex DVDs costs 50% less than mailing a standard DVD.
DVD, Flex DVD