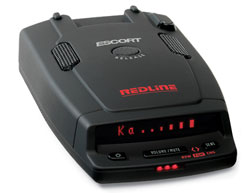 When I was a kid, my dad always had radar detectors in his car. All I remember is that each time we passed a store, a cell phone, or a tree the thing would beep. I never understood how you were supposed to know if it was the police looking for speeders or someone walking into a gas station that set the device off.
Escort has a new radar detector called the Redline that offers dual antennas to make the range much longer than other radar detectors. Escort claims that the detector can recognize radar and laser signatures from 13 miles away.
The long scanning capability of its dual antennas allows the earliest warnings possible in all radar modes. The device will ship in August for $499.95 and is compatible with the Laser Shifter ZR4 as well.
Escort, radar detector