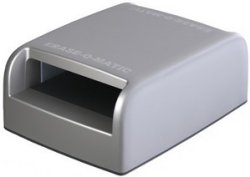 The Erase-o-Matic degausser will not slice and it will not dice. What it does is erase magnetic data media such as diskettes, cassettes, VHS, zip drives etc, using rare earth magnets enclosed in a special case. There's a larger version for larger media and hard drives.
It must be the "As seen on TV" type name that has the base version priced at $395.00. For tapes just pass them through once then rotate 180 degrees and pass them through again. A hard drive should be passed once, then rotated 180 degrees and passed again, then pass it again from the other end, rotate 180 degrees and pass again.

These multiple passes will ensure that all portions of the media will receive maximum exposure to the powerful magnets. Sounds like a lot of work for that price to us.
data, degausser, Erase-o-Matic, Zapper