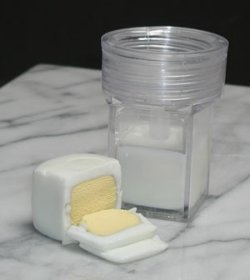 Round eggs are boring. Why eat eggs the way nature intended, when you can pervert nature and make them square? I don't know about you, but I'm tired of boring round eggs. Besides, hard boiled eggs can roll off the damn table. That's disaster waiting to happen. Avoid that with square eggs.
Square baby. That's where it's at. Just put a warm peeled hard boiled egg in the egg cuber with the base plate flat on the bottom. Place the forming plate on top of egg, then screw the top down until the egg turns square.

The Egg Cuber has been making the rounds again, but remember, we first showed you this one way back in 2006. So we were hip to square eggs first.
Egg Cuber, gadget, Kitchen, square eggs