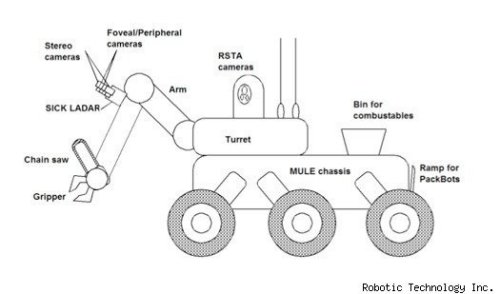 Flesh eating zombies have been a staple of horror films for decades. An announcement last week of a new autonomous robot called EATR developed with funding from DARPA was rumored to be powered by human flesh among other things.
The company behind the EATR robot, Cyclone Power Technologies, has issued a statement denying that EATR uses dead humans to make power. The EATR robot is powered by a biomass engine and is designed for long-range, long-endurance missions without needing conventional refueling.
The biomass power system of the robot is designed to run on biomass like grass, wood, and twigs. The company points out that desecrating human remains is a violation of the Geneva Conventions. Interestingly, the release doesn't deny that the robot COULD be fueled by human flesh. I feel a Terminator plotline coming on.
EATR, robot