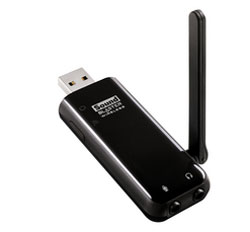 Creative has been making Sound Blaster sound cards for computers and laptops for many years. The products were once among the most popular add-in cards for gaming PCs. With the advent of HD onboard sound on most computers, the add-in sound card isn't as popular as it used to be.
Today Creative announced its latest Sound Blaster device called the Sound Blaster Wireless for iTunes. The device retails for $149.99 and turns Mac and PC computers into a wireless music system. The system includes the wireless transmitter that is about the size of a flash drive and a receiver.
The user connects the receiver to their speakers and the system can transmit music from the PC wirelessly up to 100 feet away. Creative uses its X-Fi audio technology in the wireless system for improve audio quality as well. The wireless system uses 2.4GHz connectivity.
Creative, Sound Blaster Wireless