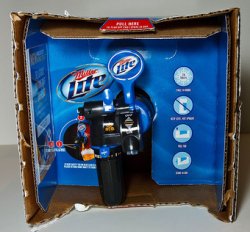 The future of beer is in a box thanks to some inside-of-the-box thinking. The $20, 1.5-gallon boxes of beer are designed for beer drinkers who prefer their beer from the tap but also don't mind if that tap is a box. Currently they are testing boxes of Miller Lite and Coors Lite in select cities and they plan to expand it nationwide this football season.
In case you were wondering, 1.5 gallons equals 16 bottles. So you'll be paying $1.25 per bottle, which is more expensive than buying a 12-pack of bottles. Hey, you have to pay for innovation.

Anyone looking forward to this?
beer, box, coors, miller