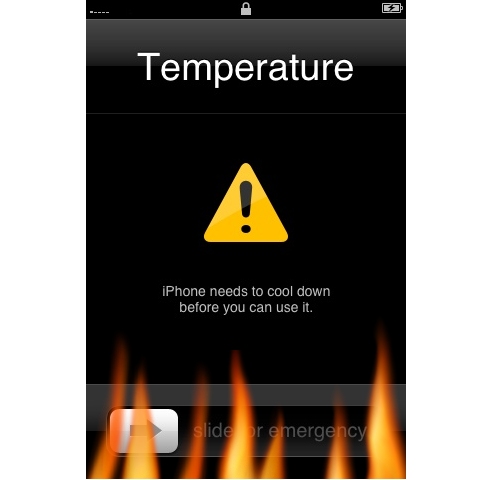 Amidst rumors of overheating iPhones since shortly after the iPhone 3GS was launched, Apple has finally released the first acknowledgment that there might really be an issue with the iPhone regarding excessive temperatures. Various sites on the internet have posted reports of problems with the iPhone due to excessive heat such as shortened battery life, shut downs and even discoloration of the device itself. Now Apple has officially issued a warning about operating and storing the iPhone 3G and iPhone 3GS in places with too much heat.
Apple suggests to only operate the iPhone 3G and 3GS in temperatures between 32º to 95º F (0º and 35º C) and to only store the device between temps of -4º to 113º F (-20º and 45º C). Using or storing the iPhone in temperatures beyond this range can cause the device to stop charging (which could explain a shortened battery life), a dimmer display or a weak signal.
Apple also provided an example of a warning screen (pictured above) that may appear if you are using your iPhone in temps that are too hot. It shows a warning icon and tells you that the iPhone "needs to cool down" before it can be used, but does give an option to use it anyway (for an emergency).
Some examples that could cause the iPhone to overheat include leaving it in a car on a sunny day and using resource-intensive applications such as GPS tracking or listening to music, combined with direct sunlight.
Apple, iPhone, iPhone 3GS, overheating, warning