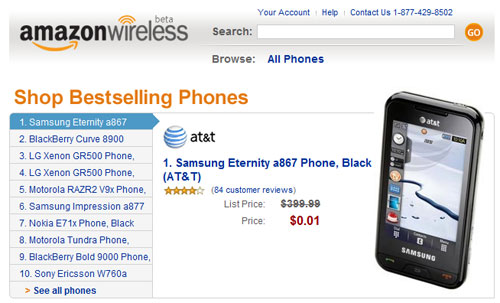 I am not a big fan of buying new mobile phones. I am with AT&T and I think that the sales people at my local store are mentally deficient. Every time I have ever been in the store it takes a good hour, most of which is waiting for one of the goons to stop harassing the person there before me to buy a memory card and a case with their phone.
Next time I need to upgrade, I might just go online and order. Amazon has launched a new wireless phone offering called AmazonWireless, which is in beta right now. The site offers mobile phones and plans for sale without having to mess with rebates and all phones include free two-day shipping.
AmazonWireless currently has over 120 phones that are available for purchase including smartphones and basic phones for those on a budget. The site can sort phones by color, features, price, brand, and carrier to make finding just what you want easier.
Amazon, mobile phone