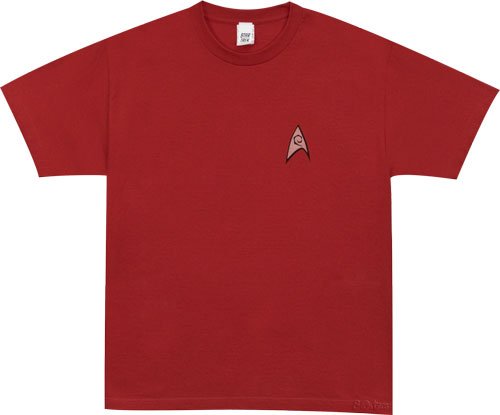 This week our readers have the chance to win some cool prizes courtesy of the folks from 80s Tees. Here at the 'Brick you can win this awesome Star Trek Engineering Uniform t-shirt. While over at our Robot site Botropolis, you can win a Pimp Bender T-Shirt.
As for the Trek shirts, we have a total of 3 in size L. So what do you have to do to win one? Simple. All you have to do is comment below with a funny poem/haiku or thought about Red shirts dying in Star Trek. The idea is to make us laugh. Rules are below.

Rules: US residents only. Make sure that you provide your email address so that we can contact you. The contest will end no sooner then Friday June 20th, but may last a little longer if you haven't made us laugh enough by then. So you have at least until Friday. The three winners will be notified via e-mail and we will announce the winners here as well.
Now get commenting.
contest, Engineering, geek, Star Trek, T-Shirt, Uniform, win