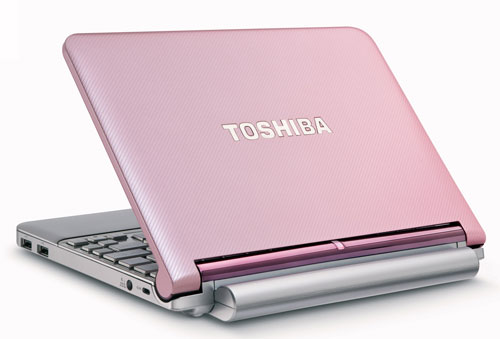 The netbook market is saturated with models form different manufactures, most of which have the same exact specifications. With netbooks being the fastest growing segment in the computer market, more machines will continue to be announced.
Toshiba has announced its first entry into the netbook market called the mini NB205. The netbook has a full-size keyboard and a large track pad along with a 10.1-inch screen that is LED backlit. The machine is available in two models; the NB205-N310 comes with a stylized finish in pink, brown, blue, and white colors. The NB205-N210 comes in a fushion finish in black onyx color.
Both the versions of the machine share the same hardware and internals. The machines run Windows XP and use an Intel Atom N280 processor. Other features include 1GB of RAM, 160GB HDD, Bluetooth, and Wi-Fi. Toshiba promises the 6-cell battery is good for 9 hours of use per charge.
Netbook, Toshiba