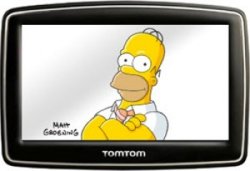 Novelty GPS products are few and far between. Sure, we have the Knight Rider GPS, but do you really want to be re-living all of those car chase scenes while behind the wheel? Probably not a good idea if you are easily convinced that your car has rocket boosters.
So how should the average guy use GPS? I'm glad you asked. The official Homer Simpson voice skin for the TomTom GPS of course. It features Homer's voice saying things like "Take the third right. We might find an ice cream truck! Mmm…ice cream."

Is that awesome? You bet. $12.95.
GPS, Homer Simpson, skin, TomTom, voice