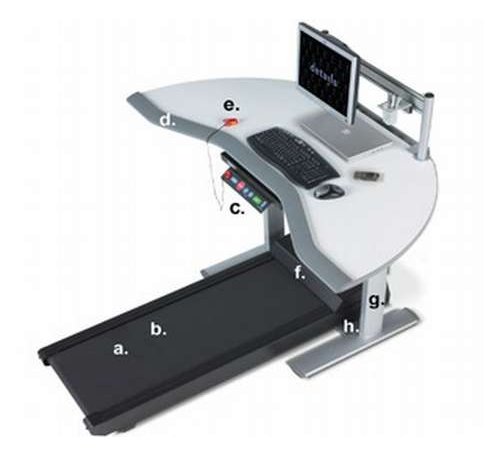 Who says you have to leave the office to go to the Gym? Or leave the gym to go to the office. Well, with the Steelcase Sit-to-Walkstation, maybe you won't have the entire gym at your disposal, but at least you'll have a treadmill. That's because the Steelcase Sit-to-Walkstation is a workstation and a treadmill in one. So the question becomes, what will give you a heart-attack first? Your impending deadline or all that running at your desk?
Maintaining a healthy lifestyle while being an office worker isn't easy, but now you will have an edge. The Sit-to-Walkstation from Steelcase is a 2-in-1 workstation that allows users to walk, stand or sit while on the job. Instead of just sit.

This workstation comes with a built-in electrical height adjuster and display to show how many calories you've burned on the job. The price? $4,899.00. Ouch. I feel the burn already. Install this LCD arm for several screens and you've got yourself an awesome little gym.
exercise, fitness, Sit-to-Walkstation, Steelcase, treadmill