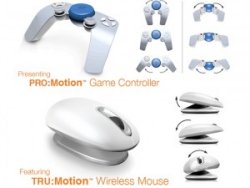 Smartfish has introduced its Tru:Motion Wireless Mouse and Pro:Motion Game Controller that offers up a new way to game on your computer. The Tru:Motion Wireless Mouse was designed in partnership with the Hospital for Special Surgery (HSS) in New York and features a pivot-motion that is ergonomic and comfortable, because the user's wrist remains in a fixed state. Ambidextrous folks and lefties will love it and it will come with optical tracking, scroll wheel, and an aluminum finish.
The SmartFish Pro:Motion Game Controller, this is said to be the first intelligent and healthy "injury avoidance" ergonomic controller that totally does away with the risk of RSI and carpel tunnel syndrome(Yeah sure).

Both controllers will be compatible with the Mac and PC and are available for pre-order with no pricing details yet.
controller, game, mouse, promotion, Smartfish, Tru:Motion, wireless