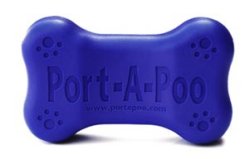 When you think about, dogs must really think we are chumps. And we are. We gladly pick up the poo, bag it and carry it all the way home. How did they get us to do that? The how is not important. What's important is that it ends now.
Let your dog carry it's own poop with the Port-a-poo Hands Free Waste Carrier. "Port a poo Takes Your Dogs Poop Out of Your Hands". The Port-a-poo attaches to almost any leash and after you pick up your dog's waste in a bag, just clip it on.

Poo on a leash. Which is how some people refer to their dogs anyway.
dog, poop, Port-a-poo