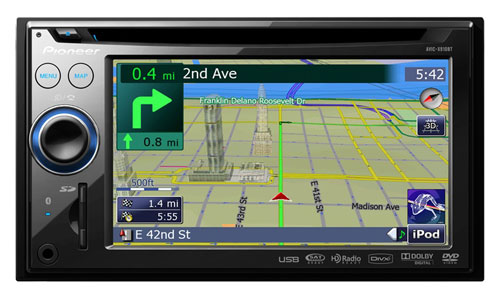 This morning I mentioned the new high-end Pioneer in-car nav device that sold for $1,600. That's a lot of money for a car stereo to most of us. Thankfully, Pioneer has also announced a couple other nav units that are significantly cheaper, but not cheap by any means.
The two units are the Pioneer AVIC-X710BT and X910BT. Both units are dual din car radios with integrated navigation, stereo tuners and more. The navigation software offers several map view modes, simulated highway signs, and 3D icons for hotels and more.
The X910BT has MSN Direct service for traffic info and more. The X710BT can't get MSN information. Both units allow the control of an iPod via voice by stating what brand you want to listen too. The units have a 5.8-inch WVGA touch panel and can play several digital file formats. The X710BT sells for $900 and the X910BT sells for $1,100.
GPS, Pioneer