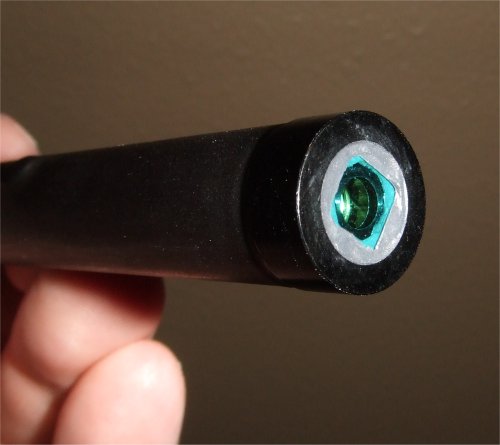 We've seen some pretty cool lasers come across our desks in the past so it's always refreshing to see a unique twist like what we have with the Photonic Disrupter. The folks at Wicked Lasers have taken an already powerful 100mW laser and modded it into non-lethal, "Threat Assessment Laser Illuminator", (TALI for short) weapon.
The main feature that makes the Photonic Disrupter different from other 100mW lasers is its adjustable lens, allowing you to create a broad or very focused non-lethal beam of green light. The intent of the laser is for military and law enforcement use in dark or low-light situations, allowing the wielder of the light to temporarily blind and overwhelm the senses of the other person.

The lens allows you to focus the beam into a very sharp thin light as we've seen with other lasers, or into a more broad light which is still very bright but not enough to cause permanent damage. The broadened beam also requires less accuracy to get it into the eyes of an oncoming enemy.
In addition, the Photonic Disrupter is waterproof and operates perfectly under water. The threaded battery housing has a O-ring seal and the entire device is encased in a tight rubber coating to keep water out. The momentary switch shows up as a bump along the shaft and is as easy to use as any other laser with a similar switch.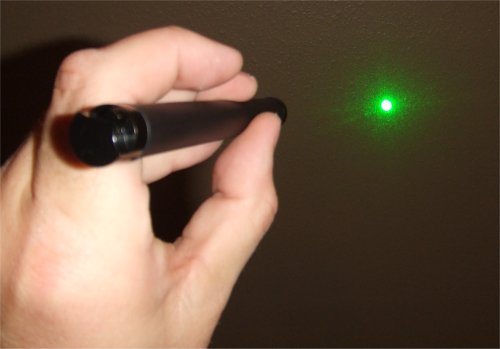 Wicked Lasers' Photonic Disrupter does not have the burning power that we've seen with some of their other products, but of course that's not the intention with this one. The Discovery Channel has even recently featured this particular laser on the Future Weapons series, showing it's usefulness in multiple tactical military situations. But, one thing that this laser does have in common with other lasers we've seen is it's significant price. Getting your hands on a product like this is not cheap and the price tag on the Photonic Disrupter retails just under $600.
laser pointers, lasers, photonic disrupter, Wicked Lasers