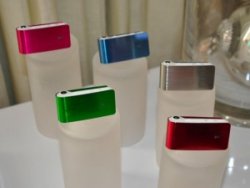 Philips just unveiled a bunch of new products, everything from new digital audio players, to all in one remotes, to iPhone speaker systems and landline handsets. There are a few that stand out from the crowd. Like the clip-on GoGear Luxe MP3 player with Bluetooth headset. It lets you switch from music to calls with just a click. It also features a music shuffle mode, a 100 hour battery life, FM radio with 20 presets, and its display shows caller ID and numbers. It retails for $79.99.
The Philips GoGear Mix has a push-out USB connector, a clip-on design, and a 4GB capacity, for $44.99. Other features include an FM radio with presets, WMA support, a full color display, and a 25 hour battery life.

Philips is never one to slow down. And these seem pretty interesting.
GoGear, Luxe, Mix, MP3 players, Philips