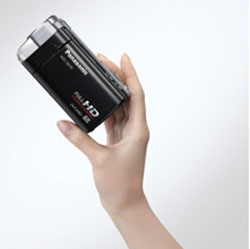 Camcorders are getting smaller and smaller with each new generation of devices. I'm not sure how small the camcorder can go, but soon we might be wearing them like glasses. Small and light is a good thing in a camera you have to hold up through that 3rd grade play.
Panasonic has unveiled what it claims to be the world's lightest HD camcorders weighing 0.5 pounds. The camcorders are the HDC-SD10 and the HDC-TM10. The two cameras are very similar with the exception of storage. The SD10 stores video only to SDHC/SD memory cards.
The TM10 stores video to both SDHC/SD cards and 8GB of internal memory. Both cameras feature advanced image stabilization that has an active mode to prevent shake when walking and recording. The units also feature 16x optical zoom. The TM10 will automatically switch to an inserted SD card when the internal memory gets full. Both units feature touch screens for navigation and can power up in 1.9 seconds. The SD10 will sell for $549.95 and the TM10 will sell for $599.95.
camcorder, Panasonic