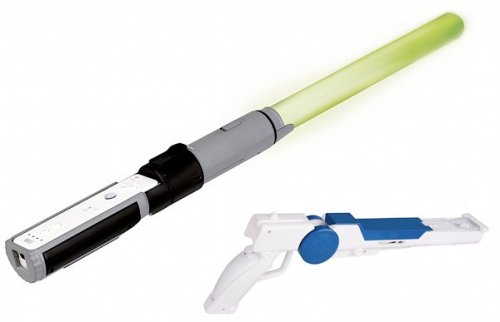 We know that you like to get all nerdy with your Wii on occasion and swing around a lightsaber while your little dog looks on in his Princess Leia slave costume. Well, if you're going to nerd out, you may as well do it with officially licensed Wii accessories.
We've seen our share of Wii lightsabers, but they just aren't endorsed by Lucas' money machine. This one is. This lightsaber glows, and Bensussen Deutsch & Associates have plans for a matching blaster too. The accessories don't make room for MotionPlus, but so what. They'll be shipping with Star Wars – The Clone Wars: Republic Heroes, a game that doesn't support MotionPlus.

Is it just me or does that blaster looks like a pain to use?
Accessories, blaster, lightsaber, Star Wars, Wii