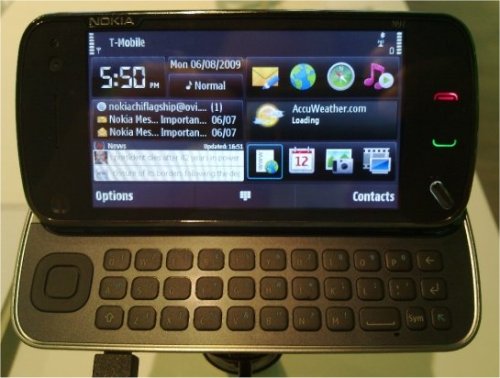 The N97 that Nokia unveiled way last December is hitting stores tomorrow afternoon. Well, at least hitting the Nokia flagship stores in New York and Chicago. If you're not already in line at one of these two places you might have some luck online as Amazon appears to have some in stock and we would imagine (or at least hope for the sake of all you that pre-ordered) that they will start shipping today or tomorrow as well.
This release from Nokia comes right on the heals of the new and improved iPhone 3Gs announcement and adds some healthy competition to Apple's reigning smartphone champion. The N97 sports not only a wide touchscreen display but also has a slide-out QWERTY keyboard to add some ease and speed to your mobile communications. The internal storage capacity is boasted at a strong 32GB internal with an SD card slot supporting up to another 16GB. You'll also find a 5 megapixel camera with a Carl Zeiss lens and the ability to shoot (and store) some nice-quality video.
Nokia has the price set at $699.99 and Amazon currently has $96 off of that bringing the N97 to just over $600. Certainly not cheap but we all knew going in that it wouldn't be, right? You can see more and follow the flagship store release in Chicago at the store's Facebook page.
Symbian-Guru via Engadget
Mobile Phones, N97, Nokia, Nokia N97, smartphones