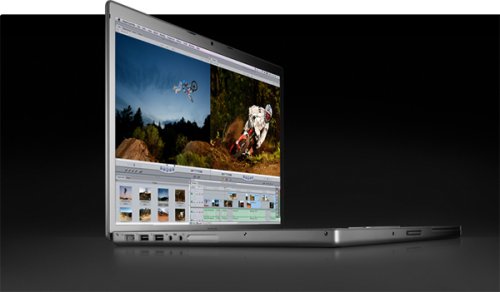 Today Apple announced new MacBook Pro models with the same upgraded, 7-hour battery life as the 17-inch MacBook Pro, more memory, a processor upgrade, and storage, as well as an SD-card slot. They are shipping today.
According to Apple, the battery will last 5 years or 1,000 recharges since it's non-removable. The base model features a 3.06 GHz Dual Core Intel processor, 4GB of memory, a 250GB 5400rpm HDD, and an upgraded display at $1,699. That's $300 less than the current model. If you want to upgrade to a 2.66GHz processor with a 320GB hard drive, that'll cost you $1,999, while the 2.8GHz model with a 500GB hard drive will hit at $2,299.

The latter two models will be packing Apple's dual Nvidia graphics chips, the 9400M and 9600M (256MB and 512MB, respectively), while the cheapest model has just one 9400M. All the MacBook Pros can be upgraded to 8GB of memory and a 500GB 7200rpm hard drive or a 256GB SSD.
15-inch, 7-Hour, Apple, battery life, MacBook Pro, SD Card, slot, wwdc