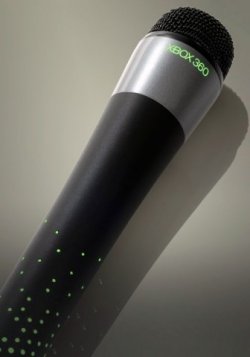 Microsoft has unveiled a brand new wireless microphone today for use with the Xbox 360. It's designed to be used with music games like Rock Band, Guitar Hero, ,etc. It will have specific features to make gameplay a bit easier while you are breaking all of the glasses in your china cabinet and forcing the neighbors to scratch their ears off.
You won't need any wires or adapters, since this mic takes advantage of the wireless console and even has motion sensors built in for added functionality. Plus, you get some pretty lights on the base.

It's available in black and you can purchase one sometime in the fall for around $50.
Microphone, Microsoft, wireless, xbox 360