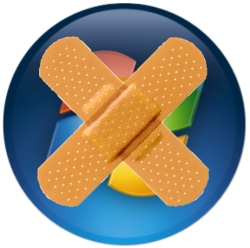 In this weeks version of "Patch Tuesday" from Microsoft, the released security bulletin addressed a record count of 31 vulnerabilities across versions of Windows and Microsoft Office.
Of the updates a number of them were rated as "critical" and dealt with an issue of remote code execution through specifically designed web pages that were viewed through Internet Explorer versions 6, 7 and 8. This vulnerability, before the fix, would allow strangers to take control of the PC remotely through executing code in the browser.
Along with this patches Microsoft has also released another update to the malicious software removal tool in which Windows users that keep up with the updates should be quite familiar with seeing by now. Anyone with questions about the record number of patches released yesterday can watch a live webcast from Microsoft today at 11am PST.
Microsoft, patches, Security, Tuesday