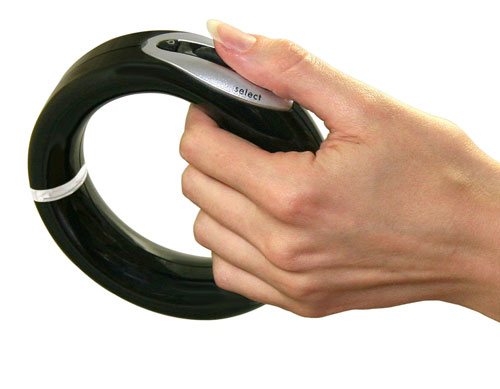 One of the biggest issues for users who put HTPC systems into the living room is how to control the computer from the couch across the room. A wireless keyboard will handle the typing issue, but the mouse can be more difficult since there is no desk to use.
Hillcrest Labs has announced that its Loop Pointer in-air mouse is now available for purchase. The device is compatible with Windows and Mac systems. The Loop allows the user to control the cursor on a PC screen wirelessly from across the room without needing a desk or other surface.
The device works completely in the air and features four buttons and a scroll wheel. The Pointer was a prototype designed originally to show off the Freespace in-air pointing technology. The Pointer is available for the first time for $99 on Amazon.
Hillcrest, mouse, pointer